How can you get more Google reviews? It's simple. You need to make asking for them a consistent part of your business processes.
Customer talking about how happy they are with your product or service?
Ask them for a Google review.
Client been working with you for a while now and seeing great results?
Time to ask for that online review.
Done with a job and won't see the customer again?
Ask them for a Google review!
It's rare that someone will say no. And if you're able to follow up with people, asking twice pretty much always does the trick.
Why Google Reviews Matter
Reviews on your Google My Business page are almost certainly a ranking factor for
Local SEO
.
Plus, social proof is a critical part of your marketing, so you want future prospects to hear from your current happy customers or clients.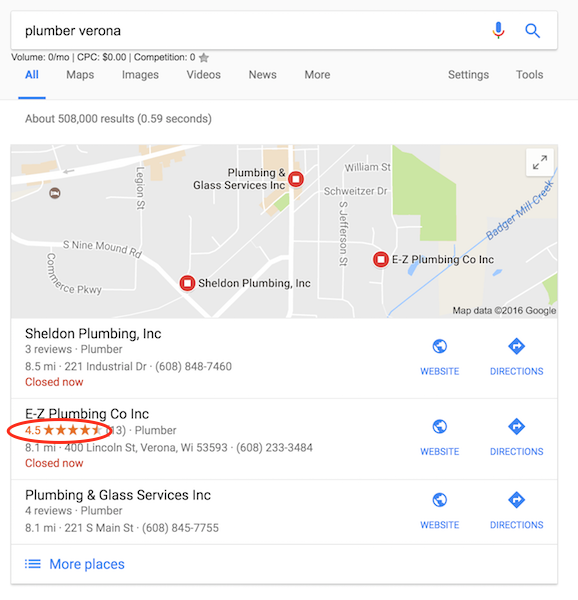 Those stars next to your business name help you stand out and make searchers want to click on your listing. Just look at the example above for "plumber verona." Which of the three would you click if your shower drain was backed up?
How to get reviews on Google
Like we said above: Ask for them.
Seriously.
When you've satisfied a customer, ask them to review you on Google. This is the best and most reliable way to get those stars showing up under your business on Google.
First, we'll show you how to create a Google My Business link to make it easy for customers to write a Google review for you. Then we'll give you the email template so you can use that link to ask for Google reviews.
How to link to your Google My Business page for reviews
You can (and should) send your customers or clients links directly to your review page like this.
Here's how you do it.
Go to business.google.com
Click Home.
Find the "Get more reviews" box and click "Share review form."
Copy the URL
Note that you do need your Google My Business page already set up (and verified), so if you've never done that then take care of it first.
How to ask for a Google review
Here we go! You've got your Google My Business link ready to go.
Now get the email addresses of your three most recent happy customers.
I'm serious.
Do it now.
Ready?
Here is a customer review email template you can use:
Hi [FIRST NAME],

Hope you're doing well.

I'm writing to ask if you'd be willing to leave a quick online review for the recent [SPECIFIC] services from us because I'm working on improving our online marketing.

It should only take a moment if you click here [INSERT LINK YOU CREATED ABOVE].

It would really help me if you mentioned the [quality of material used, customer service you received, turnaround time, price, etc.].

Thanks, and let me know if you have questions,

[YOUR NAME]
And that's it!
You may be surprised by how responsive people are. When you provide terrific service, people are happy to give you a quick review in return, especially when you make it this easy for them.
What if they don't have a Google account?
Remember that the reviewer has to have a Google/Gmail account to write a review.
If they respond and say they don't have an account, you can send them
this video
that shows them how to do it. It should only take a few minutes.
This is only likely to be an issue with certain client bases (e.g. elderly customers who don't get online very much).
Am I allowed to ask for Google reviews?
Google doesn't mind you soliciting reviews by asking like this, whereas Yelp does. That's right, Yelp doesn't want you to ask customers for reviews.
The best way to suggest to your customers to leave a review on Yelp is to get a Yelp sticker and put it in your business's window by the door so customers think to leave reviews for you. (You can also read our full write-up on how to get the most out of Yelp as a business owner and why you should never, ever buy their ads.)
Unfortunately, Google stopped including their Review Us on Google sticker, so sending that link in an email is going to be your surest bet.
Why will customers agree to leave a Google review?
Because you provided them with great service and they don't mind hitting you back.
Because we said "because," just like Robert Cialdini tells us to in his book, Influence: The Psychology of Persuasion.
If you're B2B, you can also provide value for them by sharing info on how to create a Google My Business link for themselves.
Since you are providing them with information to help their business, they will be more likely to help you. Reciprocity is another principle from Cialdini's book Influence.
Never stop earning and asking for reviews
Don't stop once you have stars showing up in organic search listings! In the same way you should think of links to your website as growing "link equity" for your SEO, you want to grow your "customer review equity" month after month.

Do this by earning both high star ratings (you want to be in the 4-5 range consistently) and dozens of individual reviews. When future customers are deciding whether to buy from you and they see all your past customers singing your praises, the decision will be easy.

Tags: