Reviews on your Google My Business page are a likely ranking factor for Local SEO. And as you may know from
our post about creating links to get Google reviews
, once your business gets five reviews (
update
:
you don't even need this many any more
), your stars start appearing.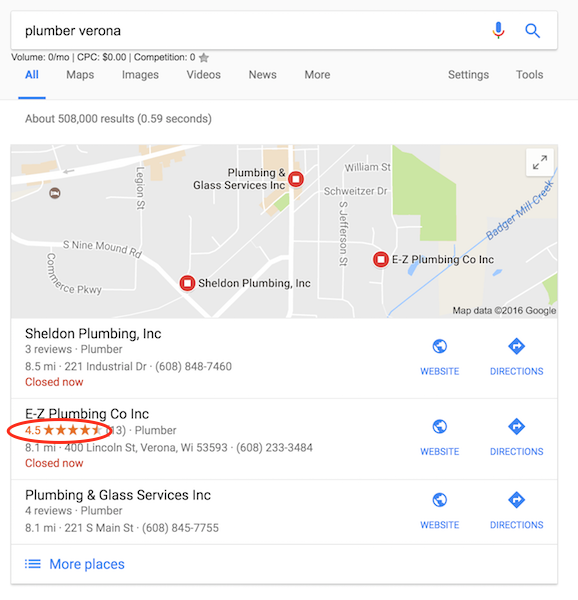 Those stars next to your business name help you stand out and make searchers want to click on your listing. Just look at the example above for "plumber verona." Which would you click if your shower drain was backed up?
How to get reviews on Google
Ask for them.
Seriously.
Get the emails ready of your 3 most recent happy customers. I'm serious. Do it now.
Here is an email template you can use:
Hi [FIRST NAME],

Hope you're doing well.

I'm writing to ask if you'd be willing to leave a quick online review for the recent [SPECIFIC] services from us because I'm working on improving our online marketing. It should only take a moment if you click here [INSERT LINK CREATED FROM THIS POST OR THE VIDEO BELOW].

It would really help me if you mentioned the [quality of material used, customer service you received, turnaround time, price, etc.].

Thanks, and let me know if you have questions,

[YOUR NAME]

P.S. – If you'd like to create a similar link to send your customers for reviews on the Google page for your business, check out this video. Once you get 5 reviews your stars appear in the search results, which can help your listing stand out. I'm almost there!
Why will customers agree to write reviews?
Because you provided them great service and they don't mind hitting you back.
Because we said "because," just like Robert Cialdini tells us to in his book, Influence: The Psychology of Persuasion.
If you're B2B, also notice how in the P.S. you're providing them with information to help their business, so they will be more likely to help you. Reciprocity is another principle from Cialdini's book.
What if they don't have a gmail account?
If they respond and say they don't have a Gmail/Google account, you can send them
this video
that shows them how to do it. It should only take a few minutes.
How do I create a link for Google My Business (again)?
Here's a refresher with the new Whitespark tool:
NOTE: Sometimes the Whitespark link creation tool doesn't work, especially for Service Area Businesses, so send them this back-up video if they ask about that.
Happy outreach!
Ready to Learn More?
Tags: