Most business owners would avoid setting up shop to sell things people don't want, yet they regularly plop content and pages on their website with hardly a thought for what their customers want. Keyword research should be your roadmap; let the search data guide how you create your website, from your regular pages to your blog posts. It's now possible to know the demand for what you offer before you even create it!

Why Work Backwards When Creating a Website?
Let's say you've been in a family business a good while and now you're investing in a fancy new website. Should you use the home page to belabor the history of the family business going back to 1889? Picture that exhaustive 1,000-word essay with pictures of tractors on the old farm when the business has nothing to do with farming. Blah blah blah.
What's the problem here? The problem is you're talking about you, when the customer came to your site to see whether you can solve a problem for them. Doesn't look like it, so BACK they click on that browser arrow, adding to your bounce rate and damaging your SEO rank.
This is why you should always start by imagining the customer's journey and desires when you create a home page or any other page on your site.
Did they find you in a search for local plumbers? Then they probably want to know how to call you.
Are they searching in the evening for a chiropractor near them? They may want to see how late you're open.
Did they come from a Facebook ad for your whimsical custom pet oil paintings?  Then they better see how much it costs and where they can submit their painting idea with their pet photo.
A store is built to make sense to customers who walk in so they quickly know where to find what they're looking for and where to pay when they're ready. Likewise, a website needs architecture and planning that walks visitors through their buyer's journey, not the company's.
Drop the Jargon
Just like we shouldn't bore our customers by talking about us, we shouldn't confuse them by speaking our own language.
Whereas as an online marketing company like us might think a business could benefit from "conversion rate optimization (CRO) informed by Google Tag Manager (GTM) event tracking," the business owner might just be wondering how they sell more online. We're as guilty as anyone on this, but we know we need to work at speaking in the customer's voice. This is so they understand how we can help them and so we can be found when they search using their language.
Okay, so we know we should include useful information like name, address, phone and hours clearly on our site and use language the customer would use, but how do we know what people might search when looking for what we sell?
SEO Keyword Research Step 1: Brainstorm
When we begin an SEO campaign for a Wisconsin business, we start by asking the company how they describe what they do and how they think their customers would describe what they do.
If a customer, friend or impartial relative is handy and willing, we might even ask them how they would search for the business. Better yet, we have them do it on a computer or mobile phone and watch what they actually type.
We ask our client to create an initial list of 10-20 phrases people might search in Google or Bing when looking for a company like theirs.
Then, crucially, we use that initial list as the starting point to create a longer list of brainstormed keywords our client didn't think of. We usually shoot to have from 100-2,000 keyword phrases on the longer list. How do we get from 20 to thousands of potential queries? We think in synonyms, variations, and use tools to see what other people have already typed.
Here are the best resources we've found to generate potential keyword searches:
Google autocomplete (Don't forget to put a star in the middle to find words you're missing there, too.)
Google "Searches Related to" at the bottom of page 1.
Plug in some starting phrases into a fantastic keyword research tool called Ubersuggest to generate keyword phrase ideas and even see their monthly US search volume for free, which is awesome!
Soovle shows you autocomplete ideas from multiple search engines, including Wikipedia.
Answer the Public is hilarious and helpful for finding "long-tail" keyword phrases that are questions people are asking online. Great for blog and video idea generation!
For blog post writing, check out alsoasked.com to see related questions to a topic pulled from Google's Also Asked result page feature.
Steal ideas from your competitors. This part is just plain fun! Use SEMRush>Top Organic Keywords>View Full Report and/or Ahrefs>Organic Keywords and PPC Keywords. The paid versions of both of these tools provide the full list and let you export into Excel.
Check out how search terms have been trending over time using Google Trends. 
To combine seed words into longer phrases, try Google Keyword Planner>"Search for new keywords…" and "Multiply keyword lists." We do this to addend phrases like "near me," "Madison, WI," "for women," etc. We also like to use Merge Words for this.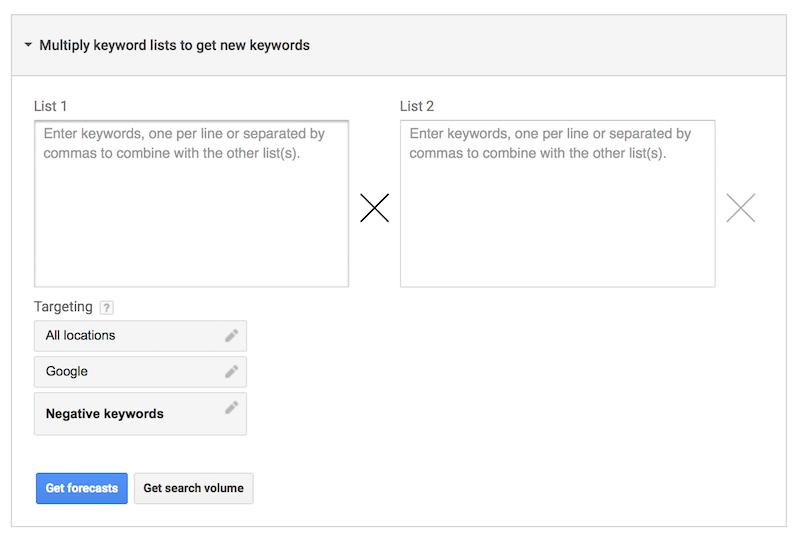 Because Google has gotten smarter in recent years, we don't just want to use exact match keywords on our blog posts and web pages; we want to sprinkle related phrases throughout our content. You can find related phrases and topics using LSI Graph. LSI stands for Latent Semantic Indexing, which is more or less a fancy way of saying synonyms and related concepts. Check out this Quora post for more info.
Already had a website for a while? Been blogging? That's great! Then you can identify SEO and Adwords opportunities based on what Google searches you've already appeared for using another magical free tool called Google Search Console. Check out our blog and video on Improving Your AdWords Campaigns Using SEO Data.
SEO Keyword Research Step 2: Gather Data
Once we have a nice big list of possible keyword searches made, it's time to see which of those people actually search the most. If we're running Google Ads, then we can see Google's more detailed search data to the closest 10 searches per month, with seasonality.
See the "Avg. monthly searches" column below:
Below you can see the notably-less-useful data you see if you aren't running enough ads to make Google happy.
Note the large ranges (100k-1M) instead of the more exact figures. Google hasn't specified the exact amount of ads you need to buy to get the more useful data, but in our experience, it's around $100/month or so.
If Google is only showing you the wide ranges, all is not lost.
Check out Neil Patel's Ubersuggest. You can plug in your starting keyword and get estimated monthly US search data.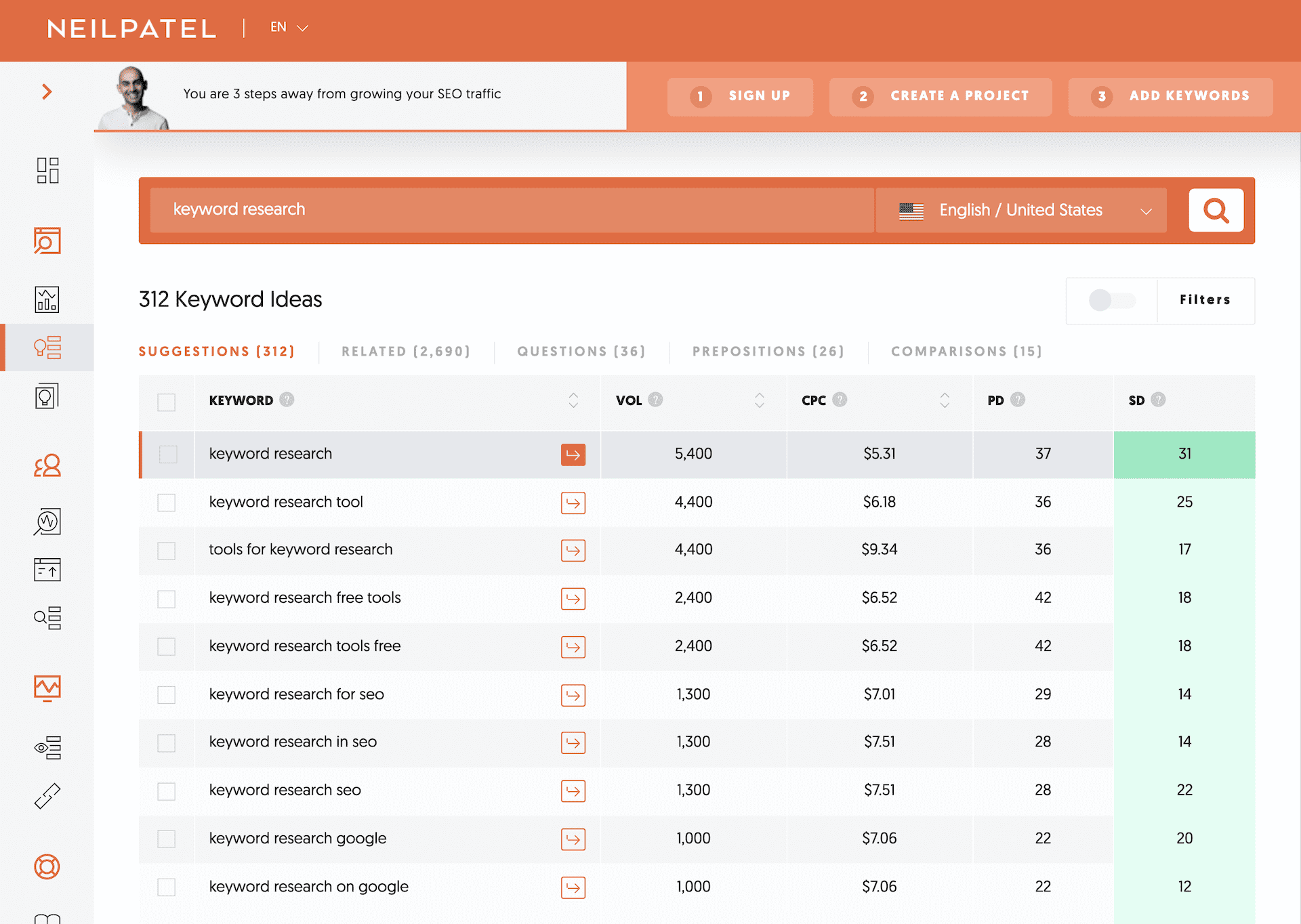 Unless we specify a geographical location, Google shows us national data. These thousands of monthly searches for our terms don't mean we'll see that kind of demand in the Madison, Wisconsin area, but they do help us understand what Americans more generally search when they look for products or services like ours.
Sometimes we are able to see the actual search volume for Madison if we add that word at the end of our search phrases, but usually not Verona, Monona, Fitchburg, etc.
There are paid tools that offer solutions. The Moz Keyword Explorer can give much more useful ranges and SEMRush (below) does the same, plus cost-per-click data that's approximates Google's.
The Ahrefs Keywords Explorer tool goes one step further and provides actual click estimates as a way to closer approximate what the actual traffic to your website could look like if you ranked for these searches. Online searchers can sometimes get the information they need without clicking to a website or may click back and try other results, so number of searches doesn't always equal traffic.
(Thinking back to Step 1 – Brainstorming, we also love the Keyword Difficulty and keyword ideas in the Ahrefs tool based on "having same terms," "also rank for" and "search suggestions." )
SEO Keyword Research Step 3: Interpret the data
Volume is usually the first element to take note of, but it's not the only one. Volume tells you what searches are more common and when (if you have the more detailed Google Ads Keyword Planner data).
You'll be surprised which keyword phrases you thought were commonly searched that aren't and which ones you didn't have on your original list of 10-20 that are more common.
Now you have an idea of what potential web traffic has looked like in the past for your competitors that are ranking in the top spots on page 1.
Some of those numbers should have you salivating; what if 25% of each of those major monthly searches came to your site/business, and another percentage of those website visitors became paying customers?
Could it significantly increase your business? The answer is almost always yes.
But wait, how hard is it going to be to get on page 1 and then climb to those top spots?
An SEO expert should be able to give you a rough estimate in effort and/or time.
What are they basing that estimate on?
On a variety of factors we know search engines favor. The Moz, SEMRush and Ahrefs tools mentioned above offer competitiveness estimates for Search Engine Result Pages (or SERPs).
Not surprisingly, the phrase "IRA rollover" is highly competitive according to SEMRush.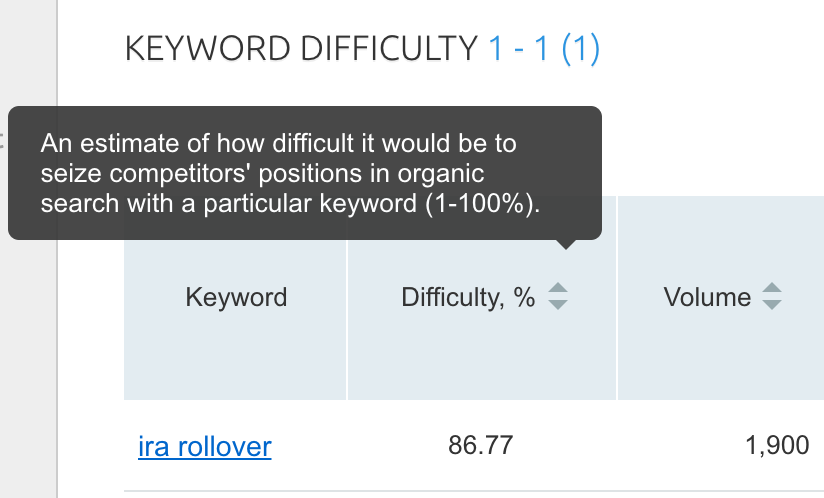 See how the Google Ads cost-per-click (CPC) is through the roof if you wanted to pay to be on page 1? These phrases are worth real money!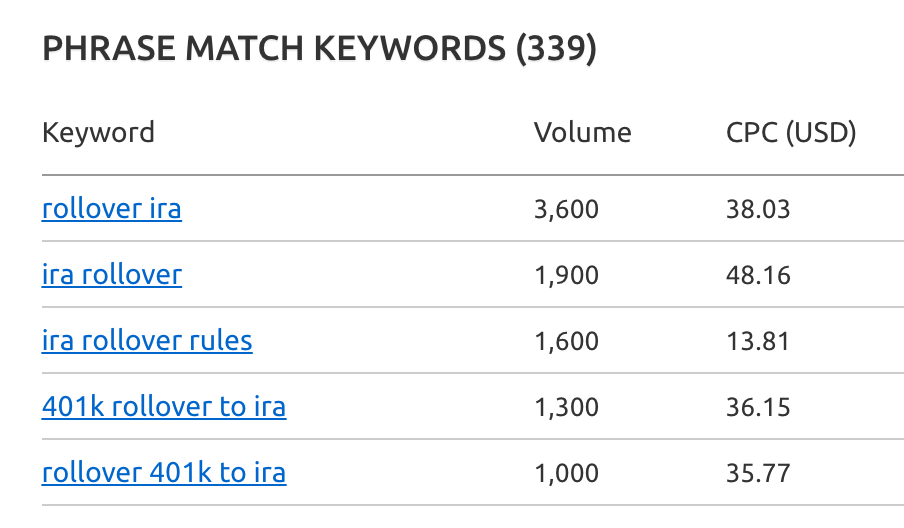 Moz offers its own estimates based on onsite optimization, overall domain authority, and number of backlinks from other websites.
The Ahrefs Keyword Difficulty measure is largely based on number and quality of inbound backlinks (and their link index is the biggest of the 3, so it's more accurate in that sense).
SEO Keyword Research Step 4: Include keywords onsite
We dug into the details of onsite search engine optimization in a separate post. Each page on your site should target (and thus include) the most searched and highest potential keyword phrases identified in your keyword research, plus their synonyms for good measure.
(Since Google's Hummingbird update, Google basically claims its algorithm understands natural language. So exact keywords are less important if Google understands synonyms. To cover your bases, just include both exact matches of your keywords and variations of those phrases on your pages.)
When you write new blog posts, you should obviously also be including your target phrases. More about that in step 5.
SEO Keyword Research Step 5: Find questions to answer
But what about longer searches?
The process described above provides a list of target "head" search phrases, meaning searches that are only a few words long. Your blog posts and other content should answer longer searches people might type in, such as "do I need a lawyer to write a contract?" or "best website hosting company for local businesses." These are called long-tail searches. They won't necessarily show data in the tools mentioned above, but that doesn't mean we should neglect them. At least 15% of daily Google searches are brand new, meaning Google has never seen them before. In general, you want to regularly add content to your site that is useful to questions people are asking.
How do you find questions people are asking? Here are some resources to help you generate useful content ideas:
Questions customers or prospects commonly ask
Questions friends or relatives ask to understand what you do
Questions posted on forums like Quora, wikiHow, Yahoo Answers, Reddit or industry-specific ones
Remember: use the * sign as a wild card in the middle of phrases in Google to see what other people are searching
Again, Answer the Public is amazing. Try it. 
Be sure to also check out AlsoAsked.com
Know the demand for what you offer
When working through this, remember how magical it is to be able to know monthly demand ahead of time and how this can help you grow your business.

SEO isn't a one-time event, it's an ongoing process and consideration.

Your initial keyword research is important, but you should redo it periodically (around once per year) to see changes in people's searches, and your content creation should be driven by what people are looking for.

Happy researching.

Let us know if you'd like us to tackle yours.

Tags: