It's worth questioning whether manual search engine submission is still worth doing. Here's some information that calls into question the need to manually submit your site to Google and Bing:
"You don't need to submit your website to search engines because search engines have evolved beyond the point of needing to be directly notified when a new website, or page on a website, is created."

Source: http://www.seomark.co.uk/submit-website-to-search-engines/#ixzz4T0imBPfD

"Since 2001, not only has search engine submission not been required, but has become virtually useless."
What's the alternative?
Just wait for Google and Bing to discover your site and it's new pages. To move things along more quickly, you could also just link to your site from posts on your Twitter and Google Plus pages and watch for them to show up. You can see what Google and Bing have indexed by searching
site:[your website]
For us this search looks like this
site:getfoundmadison.com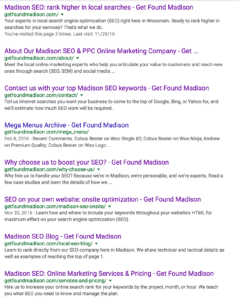 That's nice, how do I do it anyway just in case?
That said, we do have one client with an e-commerce site they've had for years that wasn't showing up on Bing until we submitted them.
If you still want to submit your website to search engines manually just to be sure, here's the process:

If you're implementing Google Search Console and Bing Webmaster Tools (which we recommend anyway) you can just tell them to Fetch your site. That will ensure you're covered for 98% of searches.
WordPress Search Engine Submission with Yoast
If you're on WordPress, like us, the Yoast SEO Plug-In makes this extra easy.
Squarespace Webmaster Tools & Site Submission
How to set up Bing Webmaster Tools in Squarespace:
How to Fetch from Webmaster Tools using a Sitemap
Wix Webmaster Tools & Site Submission
Subscribe to stay up to date with what's new in digital marketing and SEO!

Tags: