Note: Here's a video covering the same material as this article, in case reading detailed posts isn't your cup of tea.
Take a moment to think about why your business has a website in the first place. Your site is not a static brochure that you tell people to go look at; it is a lead-generation machine. Your business's site should be working for you, bringing in leads, and making your job easier (certainly not harder!). So how do you make your website into an effective tool for churning out valuable leads?
That's where website analytics tools enter the picture. Website analytics can help you make sure that the site is doing its job — bringing in more clients/customers (or donations/volunteers if you are running a nonprofit). Secondly, analytics can help you identify ways to fine-tune your website so that it can do an even better job. Here are some of the questions that analytics can answer for you:
Is my website working for me and generating leads?
Where are people falling out of my funnel?
What can I do to bring them back?
Which channels are bringing in the most traffic and leads?
How can I make my website even better?
Basic SEO for Website Analytics
First, let's talk briefly about Search Engine Optimization (SEO). Organic search is one of the most effective ways of bringing in traffic to your site. Good SEO helps you climb the spots on the search engine results page, so that people actually find you when they are searching.
Because believe me, they certainly are searching. There are around three billion Google searches per day (and 50-60% of these are on mobile). Here's how things stack up when it comes to your site's ranking in search engines: there are ten spots on Google's results page. The site in the #1 spot gets a full one third of the clicks. Each other spot earns half as many clicks as the one above it. This means that it's really valuable to rank highly when people are searching. SEO pays off.
Keep in mind that it's not just your homepage that can rank in search results. Blog posts can often rank well for certain keywords, and offering good content on your blog is a fantastic way to bring searchers to your site.
We wholeheartedly recommend using the Yoast WordPress plugin. This will make it easy to set the title tag and meta description for each page and blog post. The title and description are shown in the search engine results; it's what people see when you successfully get your page to rank well.
It's crucial for the title and description to be well-written and attractive. Think of them as the digital version of a store's windows and front door. A site missing meta descriptions is a shopfront with no windows, merchandise, or entrance.
Another tool we recommend is the Keywords Everywhere extension for Chrome and Firefox. This extension displays Google AdWords data when you perform a search, so you can see the search volume, cost per click (CPC), and more. It can also compare keywords and export spreadsheets of useful info.

With these tools, you are on your way to getting started with SEO. There's a lot more to it if you want to dig deeper, but you can essentially do your own basic SEO with just a few free tools.
Setting Up Google Analytics
Go to analytics.google.com to sign up (it's another free tool!). You'll just have to add a snippet of code to your site; there are many YouTube videos demonstrating how to do this (here's one). Then Google Analytics runs in the background and all of a sudden you're getting all kinds of free information.
Sessions: How many visits is your site getting?
Users: How many visitors is your site getting?
Average session duration: How much time are people spending on the site?
Bounce rate: This tracks the number of people who immediately leave the site after looking at only one page. Are visitors staying on your site?
Goals: Are people going all the way down the funnel and taking actions on the site?
This, in itself, is already extremely valuable! This is the first step into website analytics. But there's even more.
If we turn on demographics, we can get info about the age and gender of site visitors (among other data as well). This could be valuable info for your social media strategy, for example (i.e. would it be beneficial for you target certain demographics more than others?).
Another helpful tidbit is seeing how users are accessing the site. Most likely, many of your visitors are on mobile. Google is shifting to a mobile-first index for a mobile-first world (which is what we're now living in, like it or not). You should also shift your approach to pay attention to mobile; check your site on multiple devices to make sure it is attractive and functional.

Google Analytics also shows how visitors got to your website. They can come directly (via bookmark or manually entered URL), through organic search, from pay-per-click ads (such as AdWords), or via a link from another site or social media. This provides insight into how people are finding you.
In Google Analytics, the "Flow" page shows a nifty diagram that helps you understand how people are navigating through your site. What "paths" do they frequently take? Are there pages in your site that practically no one is visiting? If so, you should consider whether it's worthwhile to keep those pages around.
You can also see website analytics about site speed. This is important to examine, but be warned that it can be a rude awakening. If you have pages that are taking more than 5 or 6 seconds to load, you should be concerned. Just think about it: when was the last time you waited around for a page that took ten seconds to load? Long load times are practically asking for people to bounce. In fact, Google wants load times less than 2 seconds, and that really is what you should be aiming for.
When it comes to actually improving site speed, that's a topic for another blog post. However, Page Speed Insights does provide some technical suggestions you can pass on to your developer(s). Yes, we do recommend hiring someone technical to work on this.
Now let's dive into some of the really cool stuff we can do with Google Analytics.
Google Analytics Goal Tracking
When we're tracking users' activity for website analytics, we like to talk about different types of conversions.
Micro conversions are smaller steps which prospects take on the way to the ultimate action you want them to do. For a physical brick-and-mortar store, the micro conversions would be looking in the window, coming into the store, and trying on clothes. For a website, they might be watching videos, viewing products in the online store, and reading blog posts.
The final action you would like prospects to take is a macro conversion. This is probably something significant that is directly valuable (or at least beneficial) to you, such as submitting a contact form, calling or emailing you, or making an online purchase.
With Google Analytics, you can use goals to track these micro and macro conversions. Many different types of goals are supported; here are a few basic examples:
Destination: user reached a certain page
Duration: user stayed on the site for x minutes
Pages Per Session: number of pages viewed in a visit
You can also create your own more advanced goals if you want to.

Google Analytics will track the goals you set up, so that you can see how visitors are interacting with your site. You can find out what your prospects are doing (or not doing!) on the website.
Conversion Rate Optimization Best Practices
If you're wondering how this useful to you, remember why we are using website analytics in the first place. We are trying to answer these questions:
How well is the website working?
Where are people falling out of the conversion funnel?
How can we make the website better?
How can we bring people back into the funnel?
Towards that end, let's discuss conversion rate optimization (CRO). There are a number of good practices you can implement to improve the number of site visitors who turn into actual conversions. Here are things you can do to prevent your prospects from falling out of the funnel.
Place clear Call To Action buttons on every page. Your visitors should never feel lost on your website, or confused about where they should go next. Use calls to action to prompt them to move through the site, encouraging micro conversions and ultimately leading toward the end goal of a macro conversion.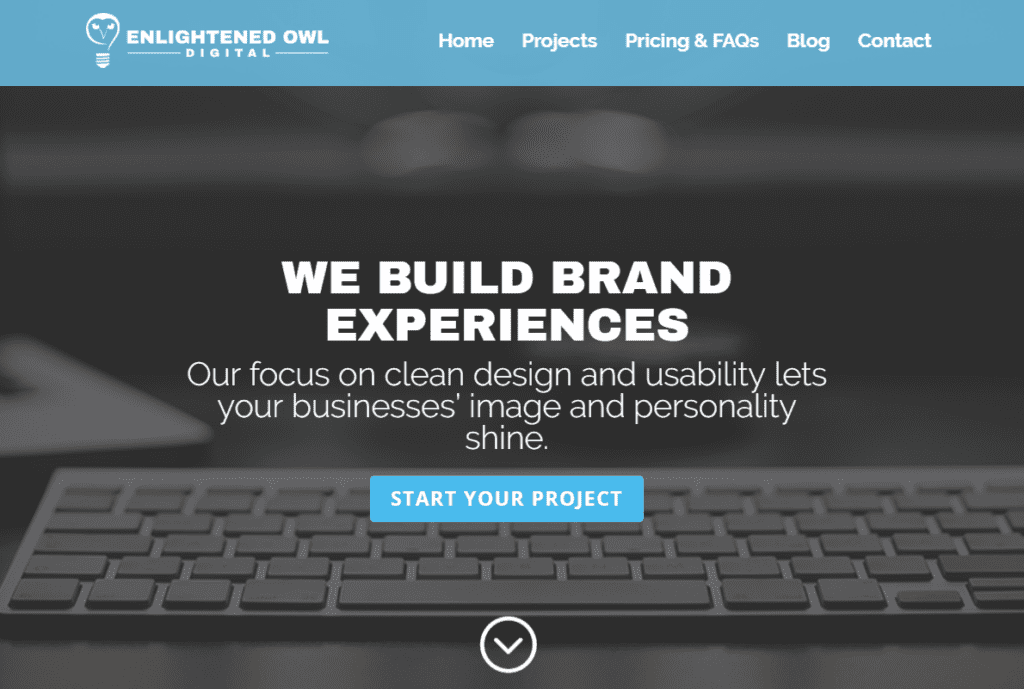 Auto-advance the page URL. This goes hand-in-hand with the idea of calls to action. In some situations, you can make it even easier for visitors to move through your funnel by automatically progressing from one page to another. Maybe for your site, it makes sense to immediately take a user to their cart after they add an item to it. Don't force them to scroll all the way back up to your menu and hunt for the "Cart" button.
Use testimonials and guarantees. Prospects should feel safe making a purchase with you. Testimonials from other customers can build your reputation, and guarantees of quality and reliability can assure prospects that they will get what they are expecting from you.
Test your checkout process for good user experience (UX). Your checkout steps should be spread across multiple pages so that users don't have to fill in a dozen fields on one page (consider adding a progress bar as well!). Fewer fields per page is especially important when considering mobile, where your user has less screen space to work with. On that note, remember to test your checkout process on at least one mobile device!
Remarketing Strategies
One of the most important uses for website analytics is identifying opportunities to remarket to users who fell out of the funnel. How can we bring them back? Remarketing is the answer.
In the language of conversions we used earlier, remarketing is the tactic of targeting prospects who completed one or more micro conversions but didn't make it all the way to a macro conversion. They entered the funnel somehow, but fell out before they got to the bottom. Our goal is to bring them back to the site.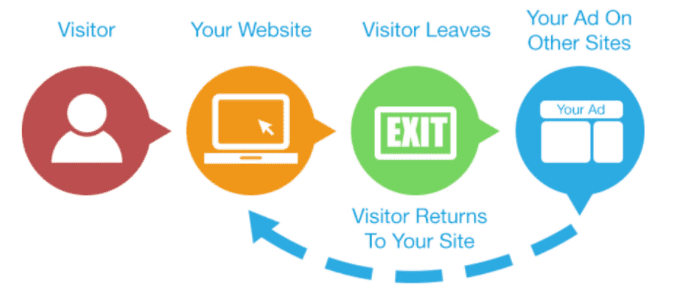 Here are some "target audiences" that would be ideal for remarketing:
Visited site but didn't complete purchase
Added to cart but didn't complete purchase
Viewed 4+ pages on site
Spent more than 5 minutes on site
Watched a video on site
We're all accustomed to being remarketed to; chances are you see it every day. You might be researching digital cameras on Amazon, then see a camera ad several hours later on another unrelated website. Google Display Ads are a prime remarketing tool, and Facebook ads can also work well for this.
What is Google Tag Manager?
This is an amazing website analytics tool; it brings all of the tracking tags together in one place. Google Tag Manager "listens" to what actions people are taking on the site, and sends the data to Google AdWords, Google Analytics, and Facebook Pixel. Go to tagmanager.google.com to set up an account (it's another free tool, by the way!). Like Google Analytics, this will require adding a snippet of code to your site, which is quite painless.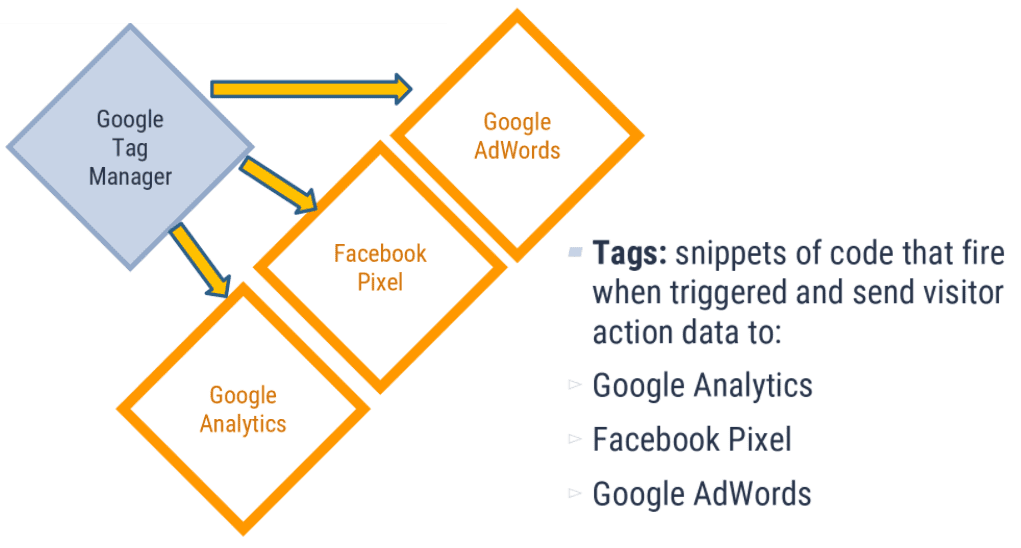 Tags are snippets of code that fire when triggered and send visitor action data to AdWords, Analytics, and Facebook. Variables are the pieces of information that the browser can pass to Tag Manager. A trigger is a visitor action that causes a particular tracking code to fire. Triggers could be contact form submission, page navigation, or click to call.
When you have Tag Manager set up, it is a powerful analytics tool. You can see which channels are working well to bring in leads. You can also drill down with Campaign URL Builder to see if specific campaigns are successful.
We also recommend the Chrome extension Google Tag Assistant. It's a free extension that tells you when AdWords, Google Tag Manager, and more are running and working correctly. It also lets you test things like triggers and goals to make sure you have everything set up the way you want it.
Google Tag Manager can be daunting to initially set up. However, there are resources available to help you learn more about website analytics; check out Google Analytics Academy and the Measureschool YouTube channel. In addition to teaching you how to use Google Tag Manager, Measureschool is a terrific example of content marketing in action. He provides excellent, useful content that's better than anything else out there, which draws users to his site and helps him sell his courses.
The Facebook Pixel – Targeted Remarketing
The next topic we need to talk about is Facebook. Firstly, it's important to clarify how your business should be using Facebook, because it's not always intuitive.
The unfortunate truth about Facebook is that organic reach has dropped off sharply and, honestly, it's practically nonexistent nowadays. Your posts are only going to be seen by something like 2-6% of your followers. So even if you've somehow amassed a hefty social media following, your posts will never even make it in front of most of them.
The reality is that when it comes to using Facebook to grow your business, it's a pay-to-play situation. You are going to have to spend at least some small sums to actually get your business in front of people. That's just how the market is now.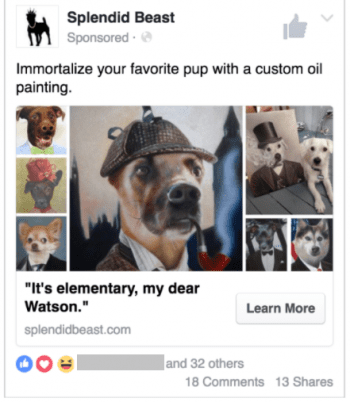 You have a personal Facebook page and (hopefully) also a business page. Now, if you want to use Facebook effectively, you're going to also need a "business manager account." That's where you'll want to run the paid ads.
Yes, it is possible to pay a little bit to boost the reach of your posts with just a business page and no business manager account. Yes, this is confusing. No, you shouldn't go this route. You really do want to use a business manager account to run real ads. Go to business.facebook.com to create one.
Now what does this have to do with website analytics? The Facebook pixel is where analytics come into the picture. It's a tool like Google Tag Manager and Google Analytics with some code that runs in the background; you're getting pretty familiar with that concept by now.
The difference with the Facebook pixel is that it is user-based instead of session-based. This means that it tracks the activity of individual users across separate sessions and different devices. A particular user might be browsing on their laptop at home in the morning then use their phone at a coffee shop later in the day; the Facebook pixel captures it all. Needless, to say, that data is priceless for analytics.
The way Facebook ads work is by defining an "audience" and then putting an ad in front of them. An audience is any group that you might want to target, such as "people who visited my site but did not make a purchase."
On that note, Facebook ads are excellent for remarketing. Because of the Facebook pixel's ability to keep track of individual users across devices/sessions, that guy who visited your site on his laptop in the morning can see your ad when he's scrolling through his Facebook feed on his phone at the coffee shop later. It's a cool way to bring people back into your conversion funnel.
One last note about Facebook: check your measurements and look at the Frequency for your ads. If someone spends 10 minutes browsing Facebook on their phone and they see your ad six times in that duration, they'll get "ad blindness" and become accustomed to ignoring you. If your ad frequency is too high, the cost per click (CPC) will go up and your click through rate (CTR) will go down — both of which are bad.
Google Data Studio: Bringing It All Together
So now you've got a hell of a lot of website analytics data. Some of it is in AdWords, some in Facebook, and maybe some in Bing Ads. This is where Google Data Studio enters the picture: it puts everything in one place, alongside some neat graphs and charts.
Once again, this is a free tool (hooray!). It also uses a relatively easy drag-and-drop interface. Google Data Studio can get updates automatically from some major sources, such as Google Analytics, AdWords, and Google Search Console. It can also pull from exports in Google Sheets, if you take the time to set that up. This is the best way to get data from Facebook Ads, Facebook Page Engagement, and Bing Ads.
Once you've got Google Data Studio connected to all your data sources, you can build a dashboard to view all of the data and results in one place. This is designed using the drag-and-drop interface, and you can incorporate some really useful charts to visualize the data. Once you have a sweet dashboard designed, this can become your one-stop go-to for checking all your website analytics.
Conclusion
In review, you should now understand how analytics can answer the questions we began with:
Is my website working to generate leads?
Where are people falling out of my funnel and how should I remarket to them?
Which channels are bringing in the most traffic and leads?
How can I make my website better?
Website analytics are a powerful weapon. Never before have businesses or marketers had so much precise data at their fingertips. If you use analytics well, you can leverage that data to your advantage. Understanding exactly how users are interacting with your site gives you a window into their experience, so you can figure out how to improve the site. Remarketing is an incredible opportunity to get more conversions that would have otherwise been lost.
The possibilities are too good to ignore. You should be using analytics.
Want some more help figuring out website analytics for your business?
Get in touch with Get Found Madison!
Ready to learn more?
Subscribe to stay up to date with what's new in digital marketing and SEO!

Tags: