This is a guest blog post from our partner Tingalls Graphic Design in Fitchburg, WI. Check them out for inexpensive, great-looking websites!
Website Design Trends for 2017
We are already halfway through the year 2017 and we're starting to see some pretty cool website trends. Whether you're looking for a brand new website for your company or looking to rebrand your website, here are the latest best practices and trends for web design to pay attention to.
Video as the Hero Image
If large photos in the header portion of your website gets the users attention, videos can make an even larger impact.  If the video is professionally done and evokes emotion, users will stop and take notice and be interested in your brand.
A great example of a website with a video hero is the Middleton Tourism Website.
Simplify
Simple is better. A site that has too much copy is daunting.  Design your site with simplicity in mind by letting large images do the talking with brief content and the call to action clearly visible. This call to action could be "Learn More" button to that particular product, a phone number, chat function, etc.
Check out the Sketchworks website to see an example of simple website design.
Content Creation
Content needs to be rich, relevant and engaging. Use your content to highlight benefits and develop relationships. You should write your content and plan your page structure with website Search Engine Optimization firmly in mind. Title tags, alternate image tags, JPG/PNG names, headlines, descriptive links — and the body copy itself — all need to be optimized for the keywords you're targeting.
Blog Regularly 
Integrate a blog on your website that follows SEO best practices. Although hosting a blog on a free blogging subdomain (like companyname.blogspot.com) can be tempting, that's a long-term mistake. Fresh, unique content from a blog on your domain (companyname.com/blog) will help improve your website's page ranking and ultimately increase traffic to your site, but your blog needs to be on the same domain as the rest of your website, otherwise Google rightly sees those as 2 separate sites.
You should also be running Google Analytics on your site, and it's not hard to imagine that Google uses its web page engagement data (such as the amount of time users spend on a page) to influence its search results.
At Tingalls, we build WordPress sites all the time. It's a great platform for blogging because that's how it originated, so it makes adding a blog to your site snap. We also offer an inexpensive alternative to WordPress. Let us know if you're interested.
Scrolling Beats Navigation
It used to be that we focused solely on the "above the fold" content, similar to the "hamburger" menu at the top. However, as mobile usage has eclipsed desktop, we've seen users grow used scrolling through content versus trying to navigate through pages on a site.
Check out this scrolling website, Dane Dances.
This is not to be confused with the idea of having a single-page website, which greatly reduces the number of URLs search engines can crawl and gives you fewer HTML tags to use that are important for SEO. More on that another time.
Video Is King 
Video brings sounds, sights and action together. For those reasons, it often resonates with a user more than simple text or graphics can. YouTube now automatically creates captions for what you say in your videos! Check it out, Get Found Madison didn't even have to submit a transcription for these to appear: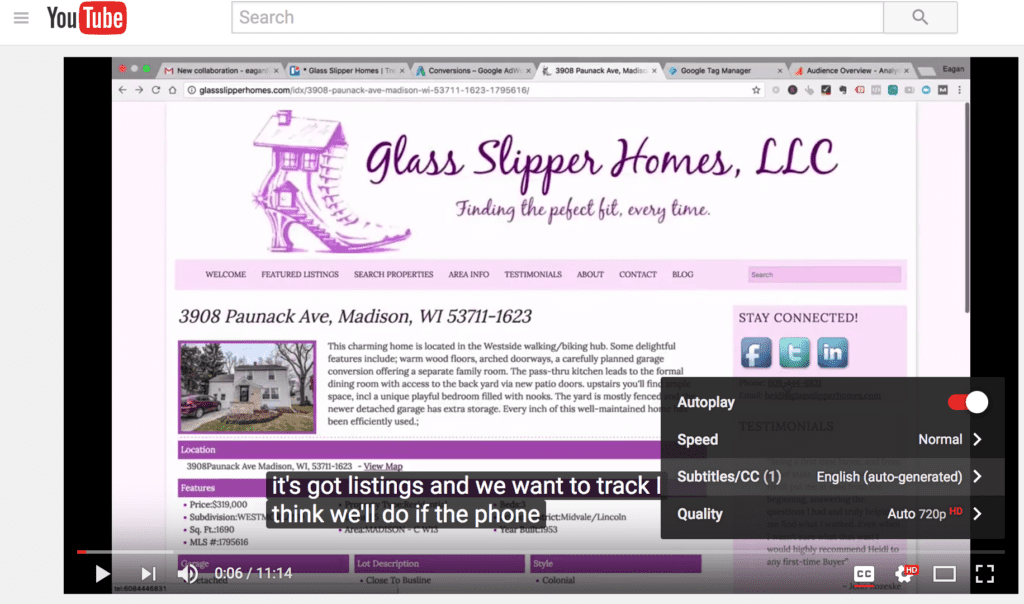 Because Google owns YouTube, it's fair to surmise Google "hears" the audio from the videos you embed on your site. (You may want to overwrite some of the copy to help accuracy of the captions.) So shoot to add video to as many of your pages as possible.  
Provide Free Value Before Asking for Anything
A website can be a great brand ambassador but if it doesn't provide valuable information, what does it do for the visitor? Providing downloadable content that helps the visitor acquire information or obtain a product can help build trust and loyalty (and earn emails to add to your subscriber list).
Consider offering a lead magnet on your site such as:
a checklist
a monthly newsletter
a downloadable worksheet
a guide
a free trial
a training
As a rule of thumb, make it quick, visually appealing, and easy to access.
Conclusion
When looking to rebrand or build a website from scratch, it can seem overwhelming to decide on the firm or product that will most enhance your brand. We recommend going with a firm that not only protects your brand but also offers unique design themes with user-friendly elements and easy editing access for future changes.
Learn how Tingalls can do that for you.
Ready to Learn More?
Subscribe to stay up to date with what's new in digital marketing and SEO!